So apparently there is some sort of recession going on and we should be doing some sort of economic stimulus. I don't really know much about it, since I avoid the news like the plague. But I hear it's happening, and it's affecting even the bloggers here in the blogosphere! It may even strike on of you--or, heaven forbid, ME!
But don't worry, there is a plan!
August is
Blog the Recession
month, hosted by
Motherhood Uncensored
!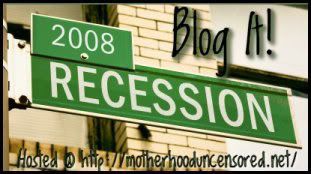 What this means is that those of us who read blogs should actually visit the blogs. That's right, click off your reader/feed and get thee to the blog! And maybe even click around a bit. Check out other pages. Check out links. Those extra clicks might mean the difference to some poor, starving blogger. Even for those of us who don't have advertising (at least not yet), the extra page views and time on page can really mean a lot. If you are feeling crazy, you could even leave comments--I especially love the conversational aspect of blogging/comments.
As for me, I always open the blog from my reader. But I will be doing my part by going down my and other's blogrolls and finding new blogs. Sure I'm exhausted and super busy, but I will do it for You! And you. And you.
So please, go click some blogs. You can make a difference. Think of the children!!
---------------------
In other news, I got two solid chunks of sleep last night! Not as good as sleeping the night through in my own bed, but I will take whatever the Pumpkin gives me.