Last Monday, I got my hair chopped off. I did it for a good cause:
Locks of Love
. (Pictures below)
When I first heard about Locks of Love, I knew immediately that I would one day donate my hair. What a great way to help out kids in need. It was something I could contribute. I have had long hair since high school and I knew one day I would want to get it shorten, so why not chop off a lot of it and donate it help out children who have been through so much.
I started going to my hair stylist right around the time I got pregnant with the Pumpkin. During my first appointment with her and at this salon, there was a woman donating her hair to Locks of Love. I told my stylist right then that I was going to do that one day. Over the years, we've measured my hair ("just to see how long it is") and talked about how I would do it one day. When I was ready.
Well, I was finally ready this last month. Even more than wanting to cut off my hair, I knew that it was a good time to donate my hair because it was still thick from being pregnant with the Pookie. For those who don't know, when you are pregnant normal hair loss pretty much stops. But then a few months after giving birth, the hair falls out. All that hair that normally would have fallen out over the months of pregnancy? It comes out over the next few months along with the normal hair loss that would occur in those months.
About 4 months after the Pumpkin was born, I started losing a ton of hair. It was crazy to me how much was coming out each day! I had a ton of new growth, but they were small, wisps of hair. Unlike some women, I didn't actually get any bald spots, but I was worried when the hair loss continued for maybe a year or more.
So at about 3 months after the Pookie's birth, I realized it was the best time to donate my hair. It was still thick from the pregnancy, and the hair loss would likely start soon. I was even getting tired of the length!
After having to reschedule the appointment 3 times for various reasons, I finally got 10-11 inches cut off. The last time my hair was this short was 21 years ago! Check it out!
My Straight Hair Prior to the Haircut: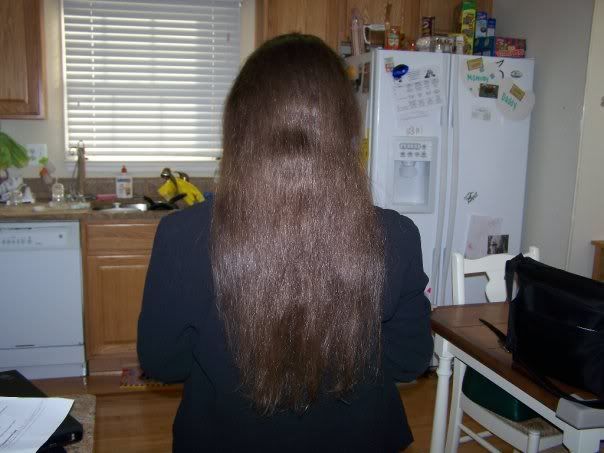 My Curly Hair Prior to the Haircut: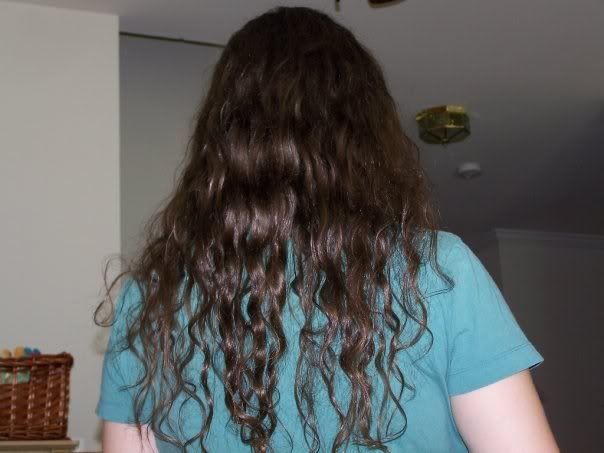 My Straight Hair After the Haircut: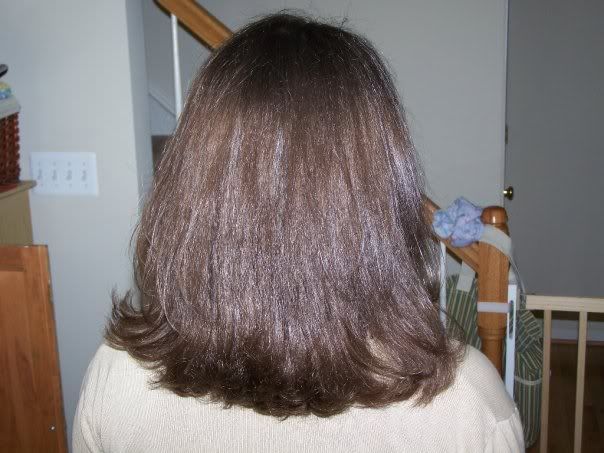 My Curly Hair After the Haircut: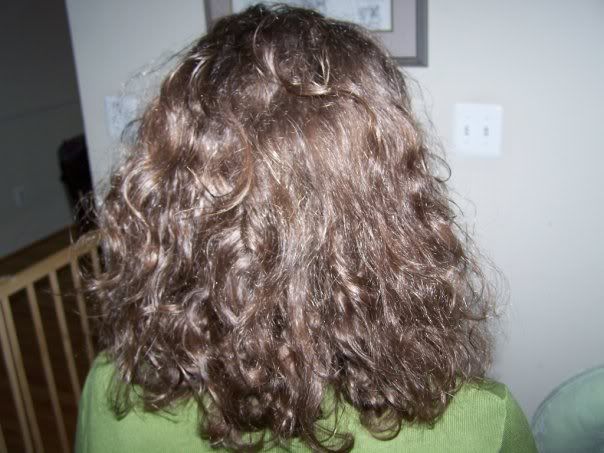 Some things I've learned since getting my hair cut:
- Shoulder-length hair is still considered long.
- People with shorter hair don't usually pull it up at night. This was a huge realization for me, since I could not figure out how to get it all up without the ponytail bothering me while I slept.
- At this length, it's much more noticeable when I don't do anything with my hair.
- Although I usually shower at night, I'm going to have to start trying to shower in the mornings more so that it's not all messed up and hard to deal with when I wake up (see bullet above).
- I can kind of braid it still, but not really.
- I can't put it in a bun, and I miss that.
- It's quicker, easier and requires less products (shampoo, conditioner, mousse, etc.) to take care of at this length.
- I think I look more stylish with my hair this length, even when I don't do anything with it! I've watched enough What Not to Wear to realize that my long hair was not doing anything for me.
- I actually really like it this length! Although I probably will end up growing it out just a little longer so I can pull it into a ponytail on top of my head and braid it nicely and maybe even put it in a bun.